高雄囝仔舞團
Kaohsiung Kids' Dance
~
2004舞囝仔的夢
2004 Dance to Kids' Dreams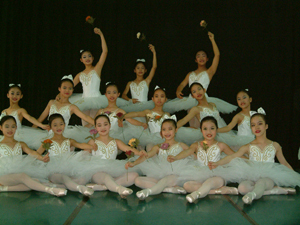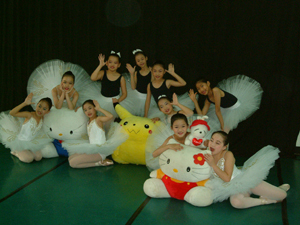 高雄囝仔舞團,是由團長林亞
蒂、藝術總監張秀如,應河堤社區
藝術進駐社區計劃之邀請,於1999
年10月為高雄市愛好舞蹈與具有舞
蹈天份的小舞者成立的高雄囝仔舞
團。2004年3月13日(星期六)高
雄囝仔舞團將於至德堂演出─『
2004舞囝仔的夢』,以囝仔的歌、
囝仔的舞、囝仔的夢舞出屬於孩子
的天空。屆時將是一場溫馨、活潑
、感性的高雄孩子夢想的呈現。
  孩子是未來的主人翁,舞蹈藝術
可以啟發孩子創作與健康成長,高雄
囝仔舞團成立演出5年來參與高雄
市大小藝術節慶的演出甚獲好評,
並帶給高雄學舞的孩子更正確的啟
發與演出機會。
  兒童舞蹈演出也需要優質的製
作及專業的呈現,高雄城市芭蕾舞團
特別技術協助,由芭蕾、現代、武
功班儲備團員擔任演出。高雄囝仔
舞團希望『2004舞囝仔的夢』的演
出,能為國內兒童舞團樹立優值的
舞蹈劇場呈現典範。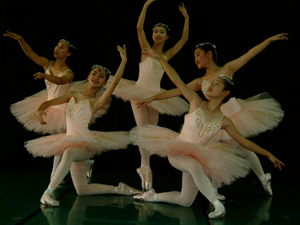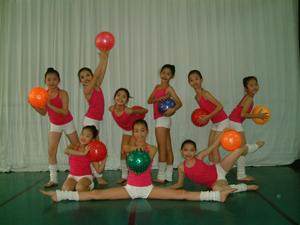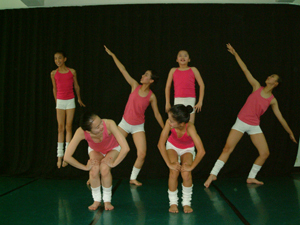 Performance Notes
What: 2004 Dance to Kids' Dreams
Who: Kaohsiung Kids' Dance
When & Where: 7:30pm, Saturday, March 13, 2004 at the Kaohsiung City Cultural Center,Chih-der
Hall (高雄文化中心至德堂)
Ticket Prices: NT$ 200 & 300/person; NT$ 450 & 750/3 people
Kaohsiung Kids' Dance: (07) 3470010, http://www.kcb.org.tw/
To Order by Phone:
1. Acer Ticketing Network http://ticket.acer121.com/
(02)2784-1111, (04)2255-1975, & (07)238-3998
2. Kaohsiung City Ballet http://www.kcb.org.tw/
(07)771-5483 Fax: (07)715-0460
"2004 Dance to Kids' Dreams"
At the heart of the Waterfront Community (河堤社區) in Kaohsiung, here comes the
Kaohsiung Kids' Dance uprising energetically and vividly for kids to dance to their dreams.
By Ya-Ti Lin
Monday, Feb. 24, 2004
It all began in October, 1999, the Director-in-Chief and the Artistic Director of the Kaohsiung Kids'
Dance (KKD), Ya-Ti Lin and Hsiu-Ru Chang, were invited by the Waterfront Community Planning
organizers as a part of the community project to create an artistic realm in the local humanistic
environment. Therefore, the concept of the founding of KKD was to allow all the kids in Kaohsiung
to "dance to their dreams!"
On March 13, 2004, KKD will hold an annual performance of the "2004 Dance to Kids' Dreams"
Series by the combination of kids' songs, kids' movements, and kids' dreams to carry out a creative
sky for the gifted kids in Kaohsiung.
Learning how to utilize one's torso, head, and limbs and amalgamating them with rhythm, sound, and
especially his or her naïveness sets a breeding foundation for a child's creativity and artisty. 5 years
after the founding of KKD, its active participation in all ranges of art festivals and performances brings
it a good reputation by its productive quality and children's artistic immersion. The purposes of KKD
are to provide kids in Kaohsiung an authentic dance training and to give kids opportunities to present
their diligence and devotion in dance on stage to audiences.
Children's dance production is definitely no less than that of adults'. KKD puts a lot of effort to make
its performances with high standard and quality. I hope that the "2004 Dance to Kids' Dreams" will
startup a model for other children's dance theatres in Taiwan.
指導單位:
高雄市文化局
贊助單位:
大田精密股份有限公司 麥當勞
主辦單位:
高雄囝仔舞團/高雄市社會教育館
協辦單位:
高雄城市芭蕾舞團 張秀如舞蹈教學系統
演出單位:
高雄囝仔舞團