2005舞囝仔的夢
你開始了嗎?活潑、健康、快樂的童年就從舞蹈開始
高雄囝仔舞團 藝術總監 張秀如
高雄囝仔舞團-演出回顧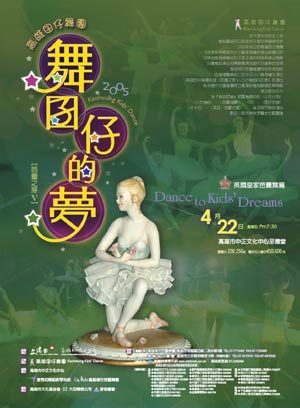 高雄囝仔舞團
『芭蕾之芽 V-
2005舞囝仔的夢』
舞出囝仔的夢
Kaohsiung Kids Dance
"The Sprout of Young
Ballerinas V – 2005 Dance
to Kids' Dream"
  高雄囝仔舞團( Kids Dance,
Kaohsiung),是由團長林亞蒂(ARAD
)與藝術總監張秀如於民國88年10月
18日應高雄市河堤社區藝術進駐社區
計劃之邀請,成立屬於孩子的高雄囝
仔舞團,這也是高雄市的藝術團體首
次響應藝術進駐社區方案而成立的團
體。
  成立六年來高雄囝仔舞團參與了
民國89年的「哪吒鬧海芭蕾舞劇」、
「90芭蕾之芽」、「90城市光廊開幕
演出」、「91舞囝仔的夢」、「92舞
動人生」、「93舞囝仔的夢」、92年
公視主辦的「全國勞工婚禮」、「世
界兒童人權日」、「91高市文藝獎頒
獎典禮」、「2001.2003高雄國際貨櫃
藝術節」、「2002.2003.2004高雄燈會
」、「2004高雄港開門」、「2004屏
東鮪魚祭」、「2004高雄城市芭蕾舞
團『浪漫芭蕾舞劇仙女』」、「2004
年9月打狗英國領事館開幕」、「2004
金安獎頒獎演出」「2005高雄燈會」
等,孩子們精湛的表現獲得肯定。
  高雄囝仔舞團『芭蕾之芽 V-2005
舞囝仔的夢』4月22日至德堂演出節目
多元~有『唐吉訶徳』芭蕾舞劇中的小
丘比特、小步舞曲、芭蕾精靈、球、
囝仔的夢、芭蕾花園、金雞舞芭蕾、
海頓小步舞曲、活潑可愛的皮卡丘等
演出,今年也將特別呈現英國皇家芭
蕾學院8個級數的兒童特性舞示範演出
,歡迎小朋友與家長闔家蒞臨觀賞。
  孩子是未來的主人翁,舞蹈藝術可
以幫助孩子優質成長,藉由肢體訓練孩
子們將更有自信。高雄囝仔舞團希望
能帶給高雄學舞的孩子更正確的藝術
啟發與演出機會,兒童舞蹈演出也需
要優質的製作及專業的呈現, 結合新世
紀產物-多媒體,希望為國內兒童舞團
樹立優質的舞蹈劇場呈現典範,高雄
城市芭蕾舞團特別技術協助,並由儲
備團員擔任主要演出。高雄囝仔舞團
希望每次演出都是一場溫馨、活潑、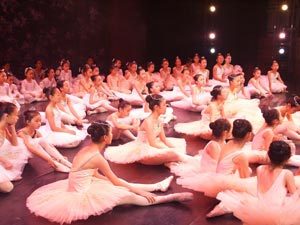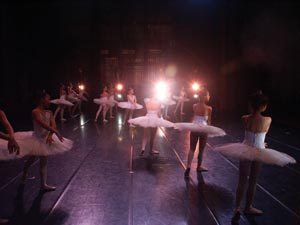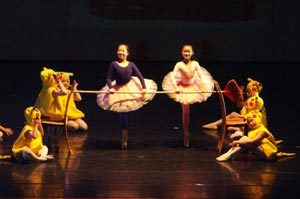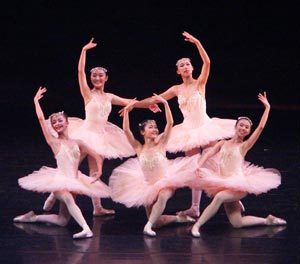 Kaohsiung Kids Dance
"The Sprout of Young Ballerinas V – 2005 Dance to Kids' Dream"
Date: April 22, 2005 (Friday)
Location: Chihteh Hall at the Kaohsiung Cultural Center
   In response to an invitation of Kaohsiung's Riverbank Community's arts-in-residence project, Kaohsiung Kids Dance (KKD) was founded by Artistic Director Chang Hsiu-ru and Director Lin Ya-ti on Oct. 18, 1999. The KKD is specifically tailored for young dance talent, and also the first performing arts group to echo such a community arts-in-residence project.
Over the past six years since founding, the KKD has produced many exciting performances, such as "the Legend of Na-Zha," "the 2001 Sprout of Young Ballerinas," "the Dance to Kids' Dream" in 2002 and 2004, "the 2003 Dance for Life," performing in an opening ceremony of Koahsiung's City Light Corridor, the 2003 National Labor Wedding Ceremony sponsored by the Public Television Service, the International Youth Rights celebration, the 2002 National Literature and Arts Achievement Award presentation ceremony, the 2001 and 2003 Kaohsiung International Container Festival, the 2002, 2003, 2004, and 2005 Kaohsiung Lantern Festival, the 2004 opening ceremony of the Kaohsiung Harbor, the 2004 Pingtung Black Tuna Festival, the Kaohsiung City Ballet's "La Sylphide" production, the opening ceremony of the British Consulate at Takao in Sep. 2004, the 2004 Chinan Award presentation ceremony, and other events. Our young dancers' masterly performances have won praise from audiences.
"The 2005 Dance to Kids' Dream" will present various dance pieces, such as some excerpts from "Don Quixote," ballet spirits, ball, kids dream, ballet garden, rooster in ballet, Haydn's minuet, and an adorable cartoon character, Pikachu. Additionally, the KKD will demonstrate eight different grades of the Royal Academy of Dance examination material, and children and their parents are welcomed to observe.
Children are masters of future. Dance will help cultivate the quality of our youth. By means of corporal training, children can develop self-confidence. The KKD hopes to ensure a strong fundamental training in ballet and edify children's artistic potentials and render them with abundant performing opportunities. Children's ballet production is no less than that of adults. It also emphasizes the quality and professional presentation. We hope that the KKD will be a model of youth dance companies in Taiwan. We appreciate the assistance of the Kaohsiung City Ballet. We hope to produce more and more quality works and carry out the warmth, livelihood, and sensibility on stage as if our young dancers have their dreams come true.
Ticket info: http://www.artsticket.com.tw/
NT$200, $250; a set ticket of three $450 and $600; group ticket please call (07) 771-5483 or fax (07) 715-0460
Contact Info: the Kaohsiung Kids Dance (07) 347-0010
The Kaohsiung City Ballet (07) 771-5483 http://www.kcb.org.tw/
Hsiu-ru Dance Training System: (07) 581-6022
Advisory bodies: Kaohsiung City Government's Cultural Affairs Bureau
Organizer: the Kaohsiung Kids Dance
Co-organizers: the Kaohsiung City Ballet, Hsiu-ru Dance Training System
Sponsors: O-Ta Precision Industry Co., Ltd., Aichi Books
指導單位:
高雄市政府文化局
贊助單位:
大田精密公司/愛智圖書
主辦單位:
高雄囝仔舞團
協辦單位:
高雄城市芭蕾舞團/張秀如舞蹈教學系統
演出單位:
高雄囝仔舞團